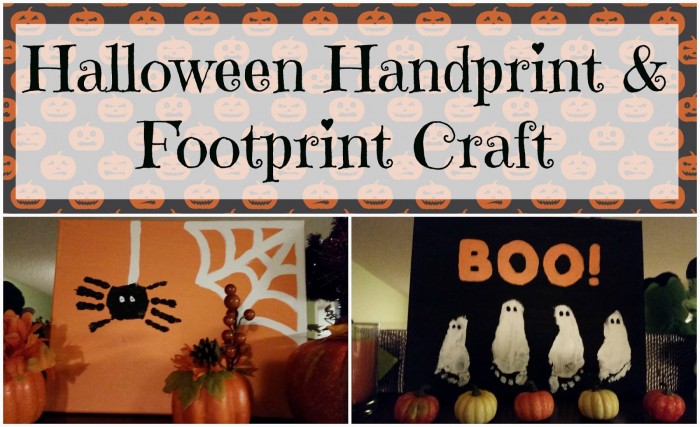 If you're looking for a last-minute Halloween Craft to do with the kids this year, this is it! It's easy and looks great, and you'll be able to display it for years to come. I chose to make two canvas prints, a spider with a web and a ghost family. Here's how!
You will need:
Acrylic paint
A canvas or two
Paintbrushes (I used a fat and skinny brush, plus the black foam one)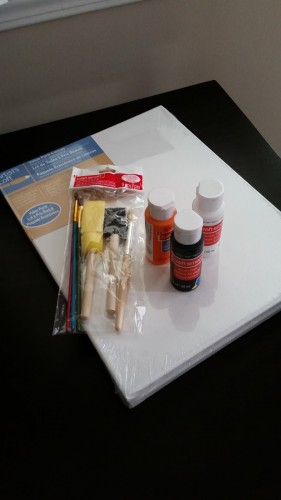 Step 1: Paint your canvas(es)
Use the foam brush to cover the entire canvas, even the sides, and let it dry. Black may need more than one coat to fully cover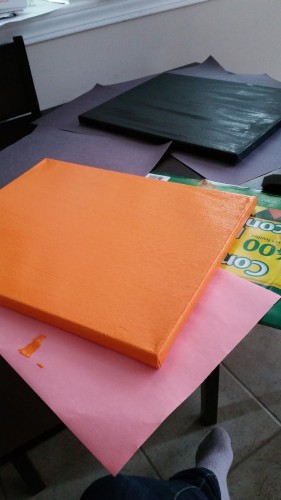 Step 2: Paint the spider web
I painted the web next because I wanted it to be there before I added the hand spider, to make sure it went in the correct place and that I had enough room.
I made the base of the web like this and then I connected the strands inside the web and made a small strand hang down on the left hand side for the spider, and let them dry.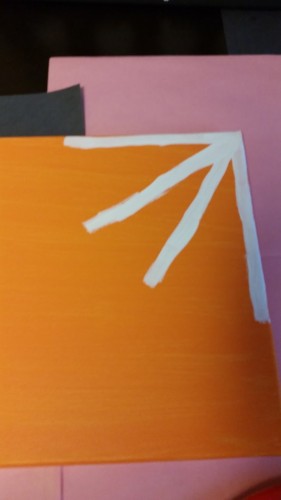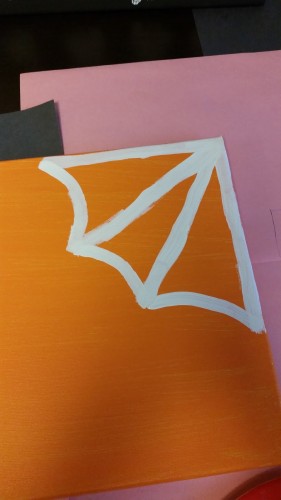 Step 3: Add in your child's hand and footprints
For the spider, I used my 3 year old's hands. It works best to paint the entire hand minus the thumb, and put two handprints together in opposite directions. I actually let her paint her own hand and then just wiped off the paint on her thumb with a wipe before pressing it down to make the spider.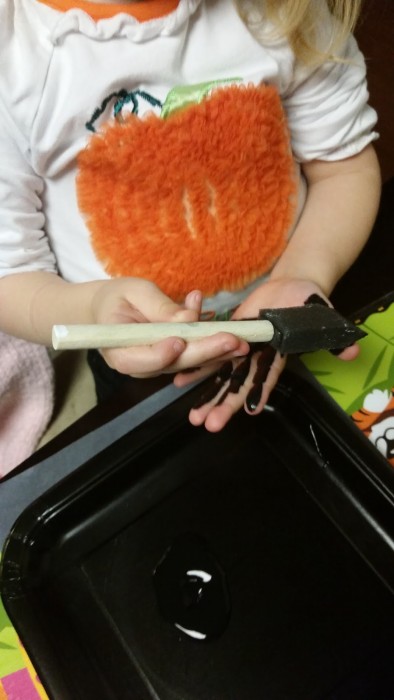 For the footprint ghosts, I used both my 1 year old and 3 year old's footprints to make a little ghost family (just like our family of 4!)
I had the brilliant idea to do my little guy's feet when he was in the high chair and I highly recommend this if you're doing a baby or even toddler's feet! I did a tester on a scrap piece of paper and had wipes and paper towels handy and it worked out very well.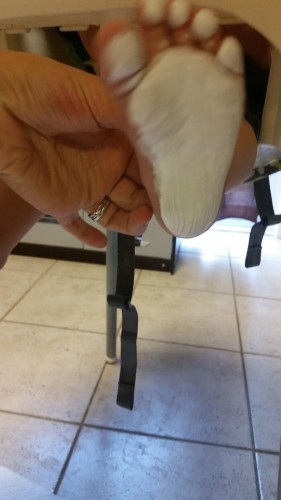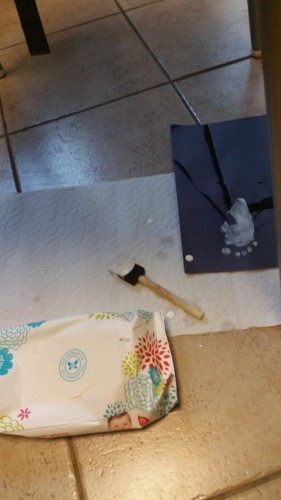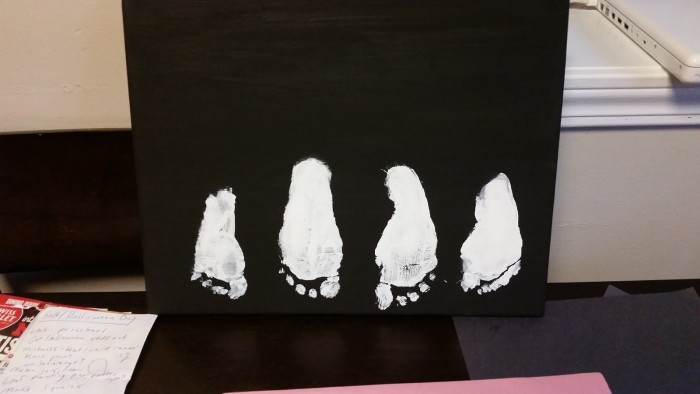 Step 4: Add lettering and other details
I traced letter magnets from my fridge in pencil for the BOO, and then filled them in with orange paint using a small paintbrush. I added eyes for the ghosts and spider with the sponge brush. I was going to add writing to the spider print but decided against it. In hindsight I probably should have made the web bigger or the spider further down, but I still like it as is.
Here are the finished products!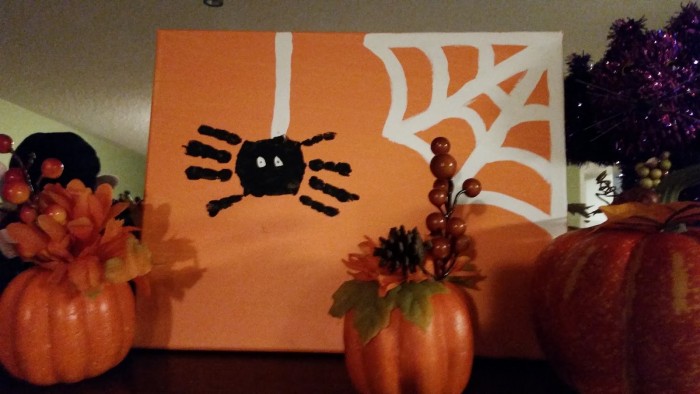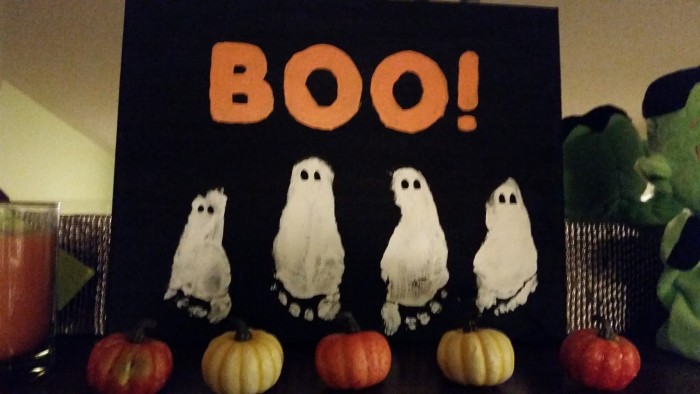 The kids and I love them, and they look great on our Halloween-themed mantel too!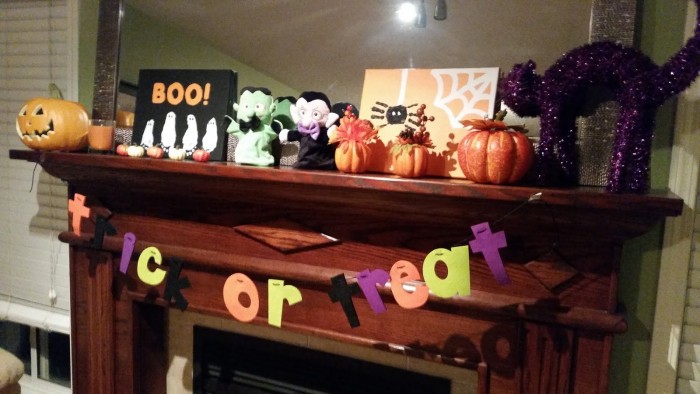 This craft would work great with regular paint on construction paper too, but I love that we can display these every year, and look back and see how much the kids' hands and feet have grown!










The following two tabs change content below.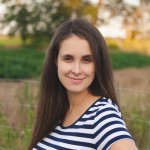 Jennifer is a teacher who traded lesson planning for full time motherhood and is now busy learning and creating with her two young children. Currently in the process of designing her third home in four years, she loves a good DIY project. Crafting and party planning - and searching for craft and party ideas on Pinterest - are among her favourite things. Jennifer lives in the Greater Toronto area and you can keep up with her and her latest projects at Living in His Way.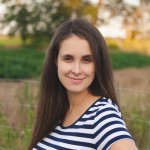 Latest posts by Jennifer Lazarski (see all)