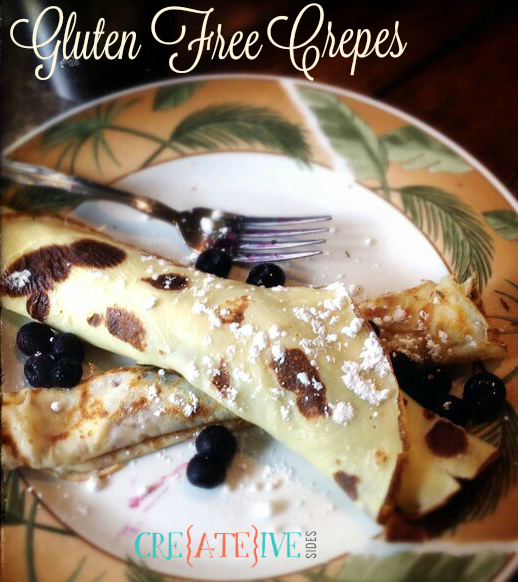 I'm not a chef, nor do I claim to enjoy cooking. I tend to do it out of necessity and anything that I do create is usually on the minimalist side with few ingredients and instructions – otherwise I get overwhelmed and throw in the towel! Occasionally however I do get inspired and feel the need to flex my culinary muscles, and this weekend was one of those times. I'm not sure if it was the relaxed feel of the long weekend, the fact that I spent a day at a conference related to food and travel writing, or if I was just plain hungry that morning, but I was laying in bed scrolling through my Twitter feed and I there it was – Gluten Free Crepes! Thanks to the inspiration from tweeter @Marziabella72 I busted out my crepe pan that has been sitting unused for the 2 years since I bought it and set to work on this easy-to-remember recipe.
They are basically 3 ingredients – even I can handle that! I doubled the batch so that we could have left overs to warm up later (they are to die for warmed up with a little bit of butter and cinnamon) and my über picky eater even took a bite! It ended there but it's a victory that he allowed it to touch his lips, trust me! So my leisurely morning making crepes and sipping my coffee was going pretty smoothly until clumsy me managed to drop the bowl of batter and it spilled all over my glass cooktop and myself. It was once again proof that I am not meant to cook unattended. The mess was unforgiving and took sometime to clean up, after all the stove was HOT when I managed to dump the batter all over it. Good thing I doubled the recipe or I wouldn't have gotten to taste my efforts, which were fantastic if I do say so myself!
Gluten Free Crêpes
2015-10-13 13:22:38
Ingredients
2 2/3 cups (630 ml) milk
4 eggs
a pinch of salt
1 cup (240 grams) corn starch
1 tsp (6.5 grams) butter or oil for the pan
Instructions
Whisk eggs
Add corn starch and salt, mix thoroughly
Slowly add the milk, whisking well as you go
Let it sit for 15 minutes
Grease pan with the oil or butter and heat
When the pan is warm pour 1 spoon of batter onto the pan
Spread out the batter into a thin circle by moving the pan
Crepes are ready to flip when they start to turn up at the edges
Cook for 1 minute on the other side before removing.
Serve with whichever sweet or savoury topping you prefer. Popular choices are ham, cheese, eggs, bacon, powdered sugar, nutella, cinnamon apples, jam, fresh fruit, whipping cream - the possibilities are endless!
Notes
Grease the pan after every 5 crepes
Adapted from Bella Cibo Kitchen
Creative Sides http://creativesides.ca/
A version of this post originally appeared on Children's Directory.
Adapted from










The following two tabs change content below.
Jennifer Erickson is a single mom of one, affectionately known as "the boy", based on the West Coast of Canada in a suburb just outside of Vancouver BC. Jennifer has over two decades of experience in personal and commercial financial services working with families and business enterprises of varying sizes set and reach their financial goals. Once "the boy" came along she left her corporate career and found her passion for marketing, social media and freelance writing. Jennifer now publishes the Lower Mainland Children's Directory, a hyper local blog dedicated to families and caregivers in search of the perfect place to stay, play, eat, shop and go with kids in tow. In addition to the day to day operations of the Children's Directory she flexes her freelance muscles contributing to various local and national blogs like Creative Sides. She is also the Founder of Fresh Press Media where she brings bloggers and brands together and helps her clients make the most of their social media reach.
Latest posts by Jennifer Erickson (see all)