I really, really LOVE Pinterest. I also sort of hate Pinterest. You see life was simpler before Pinterest in a way. Before Pinterest a simple bottle of sparkling wine could have been nothing more than a simple bottle of sparkling wine. After Pinterest I can no longer just see a bottle of sparkling wine, but rather a bottle waiting to become a pineapple covered in chocolates. I would have been just fine going thru life not knowing that a bottle could be transformed into a fabulous chocolate covered gift. I wouldn't have missed it. I would happily have had chocolates and champagne paired together on several occasions, but never put the two together into say a pineapple. Of course now that I have seen the possibilities, there is no going back. Now that I know it exists, I must try it. And because of my endless browsing, in the name of inspiration, on Pinterest I have found a terrific housewarming or hostess gift. It's a pineapple, made from a bottle of sparkling wine, chocolates, hot glue and some tissue paper. So clearly your life will be forever altered from here forward as well!
What you are going to require for this dashing pineapple of a project:
Bottle of sparkling wine (though actually any wine bottle would work)
36 Ferrero Rocher individually wrapped chocolates
1 sheet yellow or orange tissue paper
1 sheet green tissue paper
several pieces of raffia ribbon (found in most craft or dollar stores)
hot glue gun
scissors
Step 1: Purchase a bottle of sparkling wine (though really any wine bottle would work).
If you get ID'd, dance for joy, in a cool 'this is no big deal sort of way' of course, because it's important to celebrate the little things in life! And then make sure to only tell your husband about it once, not five times.
Step 2: Warm up the glue gun and gather everything needed for assembly, and pretend that your crafting space is not the basement where old toys go to die (make mental note to scroll Pinterest later for incredible craft spaces…).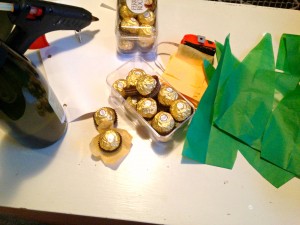 Step 3: Cut out 36 squares of yellow paper. I cut mine into 7cm x 7cm squares. I folded the paper over it self four times and measured the first square and then just used it as template to cut out the rest. Aim for smooth cutting lines, but it does not need to be perfect.
Step 4: Cut out the leaves from the green tissue paper. I just used the natural folds that the tissue came folded out of the package with and cut out the largest free hand leaf I could. This gave me six leaves. I creased them down the middle so they would stand up better and look more leaf like.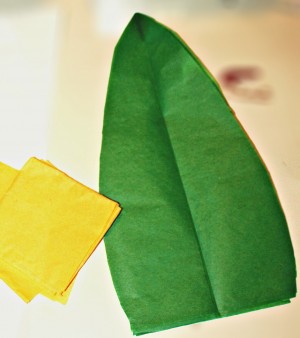 Step 5: Using the hot glue, dab a small amount on the bottom of the chocolate paper wrapper and stick to the middle of a yellow tissue square.
Step 6: Next gather the tissue around the chocolate with your fingers and add glue to the underneath of the yellow tissue and stick onto the wine bottle. I began at the bottom about a 1/2" up from the base, and worked my way around in a circle.
It's good point to keep in mind that my camera man is seven.
Step 7: Once the first row is complete start adding the second row, placing the tissue wrapped chocolates somewhat in-between, but above the first row, leaving no spaces and resulting in a more realistic pineapple pattern. I did a total of four rows.
Yup. That's my basement in all it's glory in the background there, try not to be too jealous.
Step 8: Glue the green tissue leaves overlapping each other in roughly the size of the bottle neck and slip down over the bottle. I secured the back with a dab of hot glue to hold it in place. Alternately you could just glue the leaves directly onto the bottle, but I didn't want to put any more glue than I had to onto the actual bottle's glass. I have to admit I felt a little guilty actually glueing things to a decent bottle of wine….. I really don't know why but it reminded me of painting quality wood furniture, I felt that even though I loved it, I was going to get in trouble. I don't know by whom really, because I paid for the wine myself (…did I mention I got ID'd).
Step 9: Twist and wrap strands of raffia ribbon around the base of the leaves, just above the chocolates, tying and then twisting the ends in until pleased with the look.
Finally I took the newly created pineapple back upstairs to the light of day for it's close up!
Now also allow me to take a moment and suggest carrying the gift to the recipient yourself if your husband is the sort to not so gently knock chocolates off and step on them.
So there you have it, because of Pinterest I can never look at anything the same again. Ever. A champagne bottle can not just be a simple bottle of sparkling wine, no it must become a pineapple covered with chocolates!
Adapted from Cool Creatives










The following two tabs change content below.
Laura Crawford
Laura is a nonstop baker, creative thinker and too many ideas maker. She has had a passion for creativity, décor and fashion for as long as she can remember. As a mother of 2 girls, Laura has learned to embrace plenty of sparkles, sprinkles, kids parties, school activities or really whatever creative fancy a seven and three year old can come up with! She and her husband make a fantastic team, working on renovation projects to make their home livable, but stylish for their happy family of four. While she has been creating for what seems like forever, writing for Creative Sides is her first foray into the world of blogging.
Latest posts by Laura Crawford (see all)