My son is going through a crayon breaking phase. He likes to colour but more than that he loves to break the crayons in half or peel the paper off of them. He leaves a trail of destruction throughout the kitchen much like the breadcrumbs in Hansel and Gretel. With Valentine's Day fast approaching and knowing that my oldest will want to give Valentines to her classmates I decided to make great use of all the broken crayons.
Valentine Heart Crayon DIY Instructions
You will need:
Crayons; new or used
Bowl of warm water (depending on crayon brand)
Silicone heart shaped mold
Oven preheated to lowest temperature
If you already have broken, peeled crayons you are halfway through this craft! If you are starting with fresh or unpeeled crayons it may take a few minutes to peel off the wrappers. I found Target and Crayola brand crayons to be the easiest to peel. The Color Zone brand I bought at Michael's (thank you coupons!) was a bit of a headache to peel but found that soaking the crayons for 15-20 minutes in warm water made it easier. You may be thinking why didn't I get Buddy to help? I'm trying to break him of the habit, not encourage it… though the thought was tempting.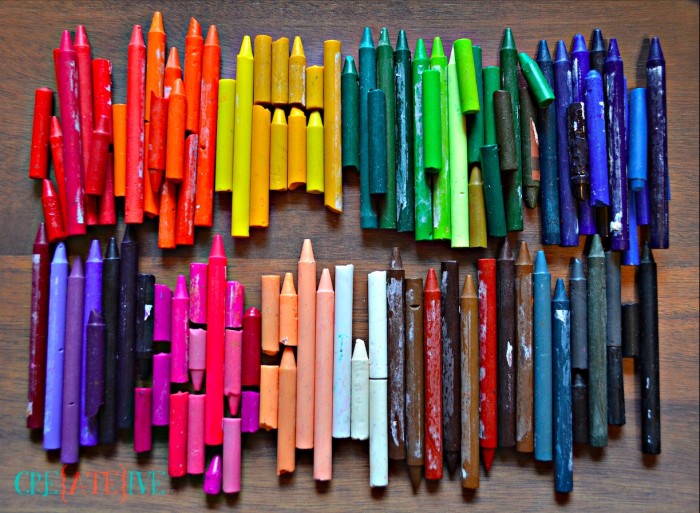 After all the crayons are peeled you are ready to fill the pan. Break the colours into small pieces and fill the liners with whatever colour combination you would like. My daughter is in an everything.must.be.rainbows phase so, for us, each liner had all the colours represented. Fill the liners 3/4 full.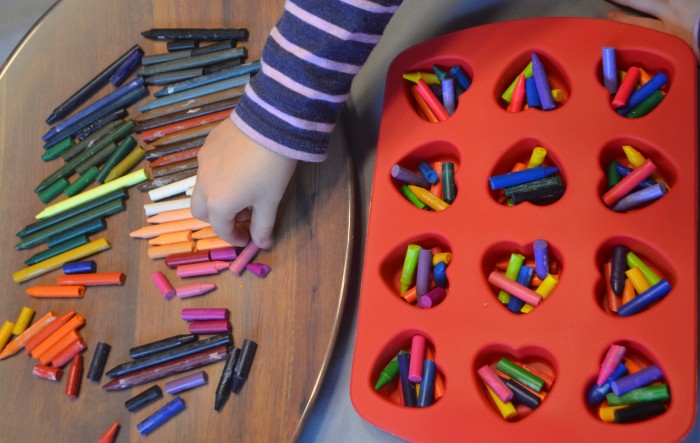 Once filled, place the silicone tray onto a baking sheet. This will give you stability putting it in the oven and reduce the chance of your oven, and possibly yourself, being covered with molten hot wax. Place the baking sheet in a preheated oven at its lowest temperature. Our oven's lowest temperature is 175 degrees.
Now the waiting game. It took approximately 15 minutes for our crayons to liquefy but I kept a close watch from the 12 minute mark onwards. The timing will depend on your oven temperature and how full you have filled the liners. Once the crayons have melted, remove from the oven and let them cool completely. Once they are cool, the silicone pan makes it so easy to pop them out.
I am really happy with the finished result. Apparently my kids are too, as one of the crayons went missing before I finished writing this post.
Hope you enjoyed this easy craft. Happy colouring!
The Quick How To:
Peel crayons and break into small pieces
Fill silicone pan 3/4 full with your preferred colour combinations
Place pan onto baking sheet and put into preheated oven at lowest temperature for 15 minutes
Cool completely before removing from pan
Enjoy!










The following two tabs change content below.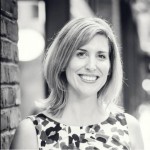 Andrea is the wife of one and mama of two who brings a certain je ne sais quoi to all she does. An avid crafter, baker and everything-maker she enjoys adding a little french twist to each of her creations. She firmly believes that coffee, wine and flying trapeze are the source of her joie de vivre.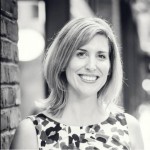 Latest posts by Andrea Moalic (see all)