This tomato soup is satisfyingly rich and creamy but the protein and leafy greens have it firmly planted on my healthy list. I used coconut milk with trepidation (I usually use it in curries and soups full of ginger and chilis) but it works here to add a nice creaminess to the soup without using actual cream.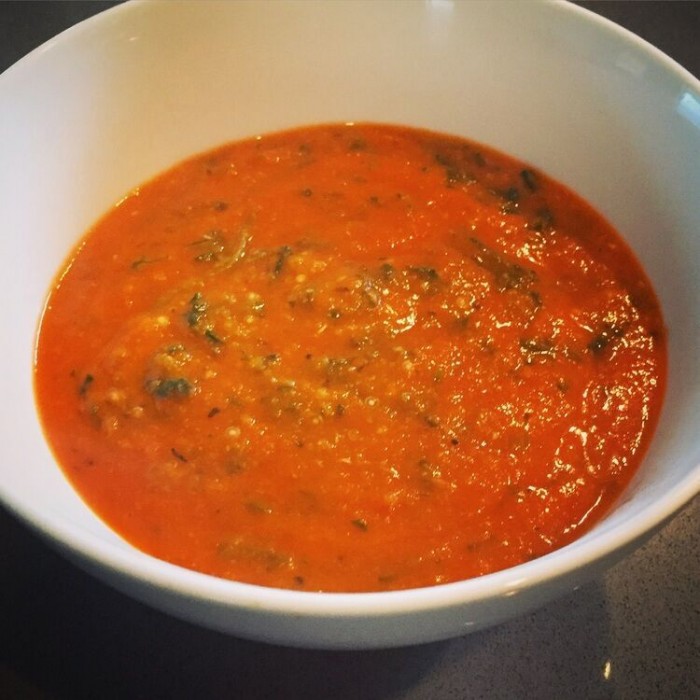 Creamy Tomato Soup with Quinoa & Chickpeas
2016-01-23 16:59:39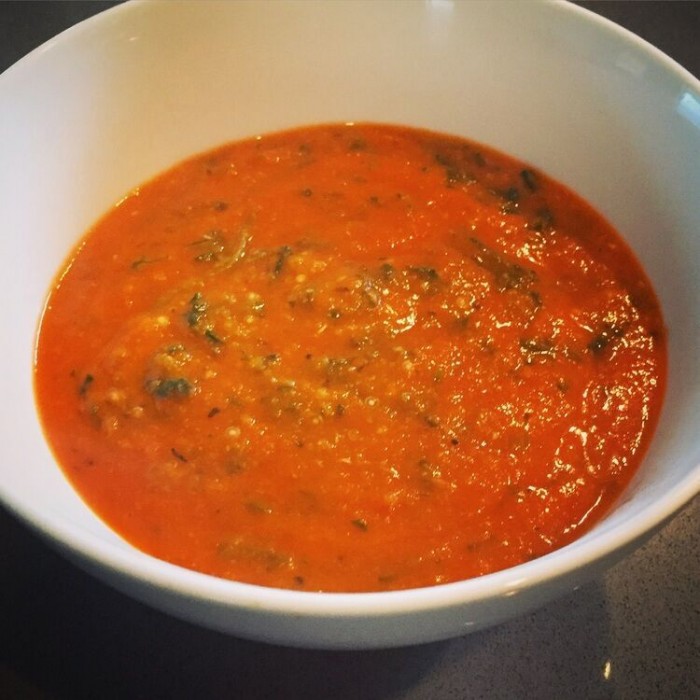 Serves 8
Ingredients
2 tablespoons olive oil
1 onion, roughly chopped
2 carrots, roughly chopped
4 cloves garlic, peeled and roughly chopped
1 cup dry white wine*
2 tablespoons tomato paste
1 (796mL) can diced tomatoes, with juice
1 (400mL) can coconut milk
2 cups broth
1 (540mL) can chickpeas, drained and rinsed well
1 (300g) block frozen chopped spinach, not thawed**
1/4 cup dry quinoa, rinsed well
1 tablespoon dried basil
1 tablespoon dried oregano
salt and pepper to taste
Optional toppings
grated parmesan or asiago cheese
finely chopped fresh parsley
Instructions
Heat olive oil in large soup pot over medium-high heat.
Add onion, carrots, and garlic and cook, stirring often, for 7 - 10 minutes until onions are translucent. Don't let your pot get too hot or you'll scorch your garlic.
Add white wine and cook, scraping up tasty bits from the bottom of your pot, until liquid is reduced by approximately 2/3.
Add tomato paste, diced tomatoes, coconut milk, broth, and chickpeas and bring to a boil. Turn heat down and simmer until carrots are very tender. Buzz with immersion blender until smooth.
Add spinach and turn heat up until soup boils. Add quinoa, reduce heat to low, and cook, uncovered, stirring occasionally, until quinoa is tender (approximately 15 minutes). Add basil and oregano. Taste and season with salt and pepper.
Top with grated parmesan or asiago cheese and finely chopped fresh parsley. Serve with crusty bread for dipping.
Notes
* If you don't have wine, skip this step and increase your broth by 1/2 cup.
** If you just have fresh spinach, use about three cups, chop finely, and increase your broth by about 1/4 - 1/3 cup.
Creative Sides http://creativesides.ca/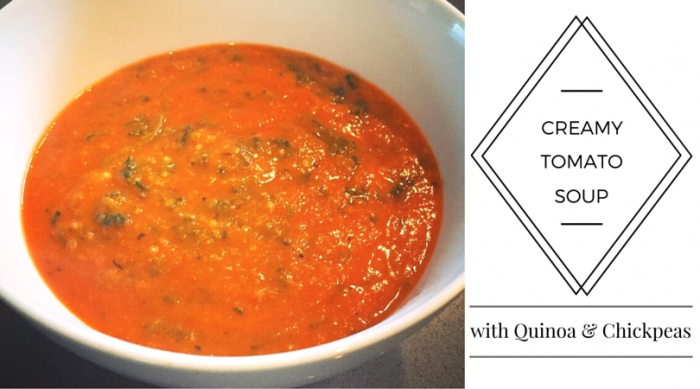 This post originally appeared on Hillary with 2Ls.










The following two tabs change content below.
Hillary is a part-time serious office person, part-time aspiring creative, and full-time mama of one spirited little guy. You can find her blogging about kitchen experiments, toddler antics, and life after cancer at Hillary with two Ls (please).
Latest posts by Hillary Westover (see all)