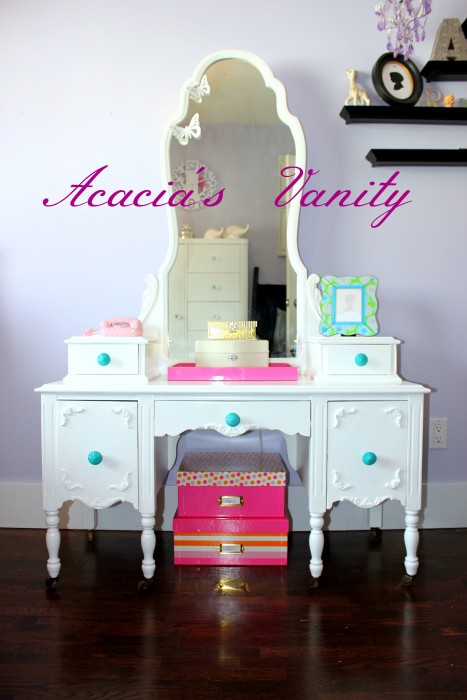 In an effort to transform our youngest daughter's room from a nursery to a little girl's domain, we had a couple projects up our sleeves. The first of these was refinishing this beautiful antique child's vanity that my husband had acquired from a second hand store several years back. It was finally it's moment to come up from the basement and shine!
Before: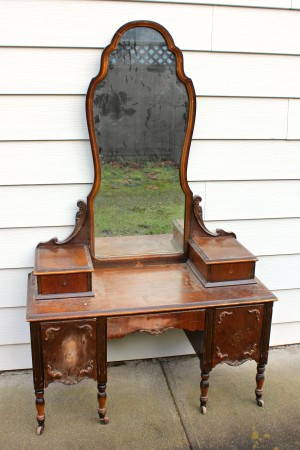 Just bursting with potential! You can see why the Hubster, with his woodwork loving ways, brought this gem home. I mean really, can't you just see the potential bursting all over the place already?!
Refurbished Vanity DIY
Tools and Supplies:
Finishing nails (we saved the original)
Screws (we saved the original)
Sandpaper – 20, 120 and 200 grit
Orbital Sander (optional)
Lint free cloth
Drop Cloth or Plastic (optional – to protect your work area)
Painters Tape
Smooth 4″ Foam roller
2″ Paint Brush
Paint Tray
Zinsser Cover Stain Interior/Exterior Primer-Sealer Stain Killer
Benjamin Moore's High-gloss Latex Paint in Chantilly lace (OC-65)
Hammer
Drill and corresponding bits
Hardware (handles/pulls)
Step 1:
The first order of business was taking it apart. We removed the mirror by detaching it from the unit. Then we took off the wood backing and removed the mirror itself, putting it carefully aside. It is important to remove the mirror so that the inside edge of the vanity frame can be painted. This way you will not see a dark reflection of unpainted wood along the outer edge of the mirror when it is finished.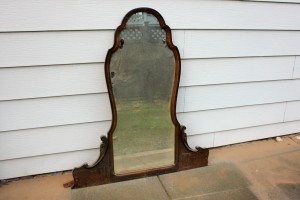 Step 2:
Next came the sanding. All the sanding! My husband's perfectionist tendencies come in very handy for these sorts of things. We wanted to make sure any sort of finish or varnish had been removed before proceeding. This was achieved with an 80, 120 and then a 200 grit sand paper on an orbital sander.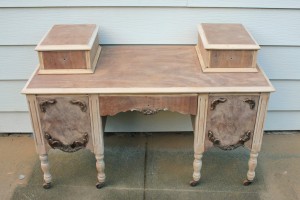 Step 3:
Carefully wipe down any and all dust with a damp cloth.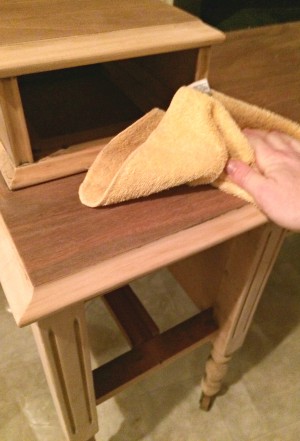 Step 4:
Next he taped off inside the drawers with painters tape so there would be straight lines where the paint stopped. This makes a much more finished look when the drawers are opened. He also taped off the casters on the bottom of the unit, alternatively you could just remove them.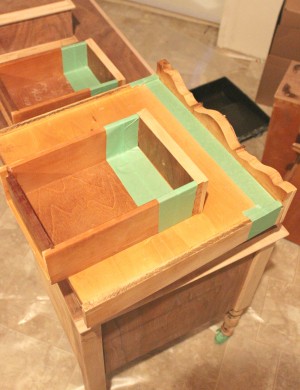 Step 5:
Then we meticulously applied a coat of primer, paying extra attention to any detail and being mindful for drips. We used a paint brush for all the detail work and then finished off with a smooth faced foam roller. We used Zinsser Cover Stain Primer-Sealer Stain Killer so as to give a good solid coat that wouldn't allow any lingering stain that is embedded in the woodgrain to seep through later. We have used this product multiple times before on other projects with happy results. Allow to dry completely.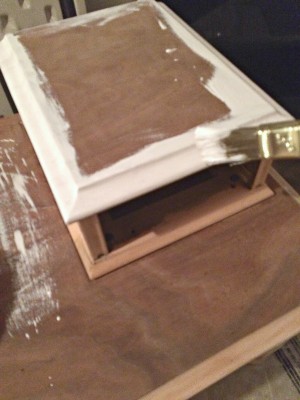 Step 6:
Once completely dry, we applied two coats of Benjamin Moore's High-gloss latex paint in Chantilly Lace (OC-65). A few minutes after applying the first coat, check to ensure that paint runs have not formed. If they have, be sure to quickly smooth with the paint brush or roller before the paint dries. Then allow time for the first coat to dry completely before applying the second coat.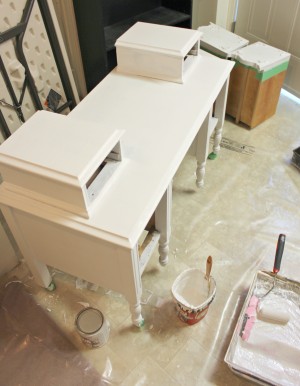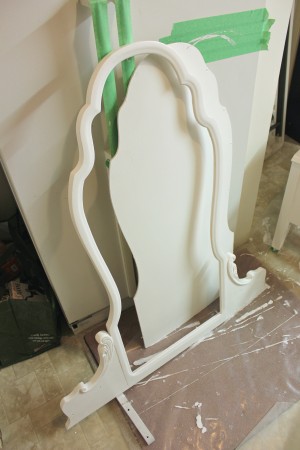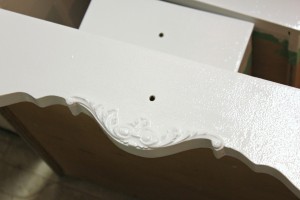 Step 7:
Allow the paint to dry and cure according to directions (we gave ours a week). Also make sure you allow this to take place without the drawers in place or they may get stuck.
Step 8:
Once the paint was no longer soft, we put the mirror back in place and the wood backing was secured with the original finishing nails. Then it was reattached to the unit with the original screws, saved from disassembly. It took both of us, one holding the mirror in place while the other attached it to the back of the vanity.
Step 9:
Next, if you are anything like me, dance your way to Anthropologie, overjoyed to finally have a reason to actually purchase some of their amazingly beautiful handles, rather than just oohing and ahhing at your every visit!
Step 10:
Install the new hardware. We went with a turquoise glass and oh man I am so in love. They look like jewelry!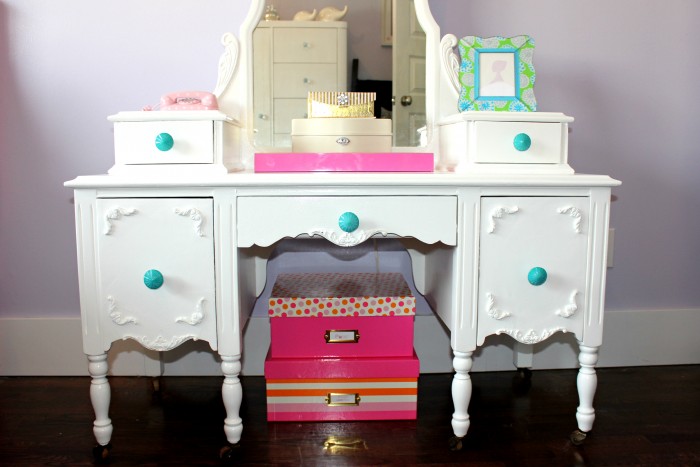 And there it is. All done!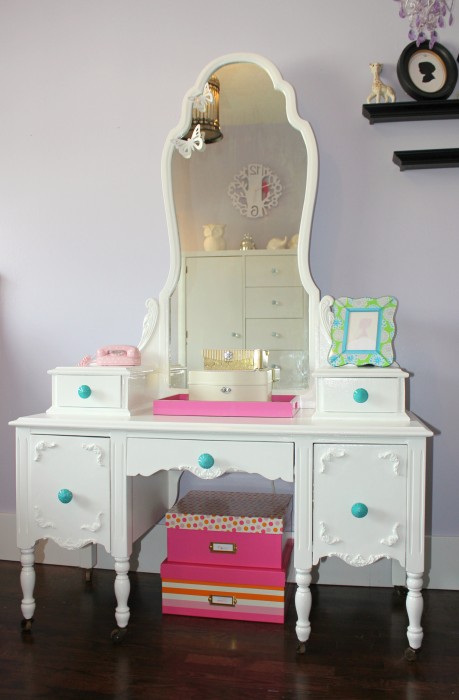 I was very pleased with this beautiful vanity, and not just because I didn't have to do any of the sanding! Acacia especially loves that her father bought it for her. I think it also doesn't hurt that her older sister doesn't have one (she has her own desk instead – an antique roll top secretary, also refinished by her father). You can tell both father and daughter are proud of it and I like that! Even the following day when I walked into Acacia's room, I found her sitting in front of her new vanity happily listening to her jewelry box play music and watching the little ballerina inside of it twirl. Appears I am not the only one pleased.










The following two tabs change content below.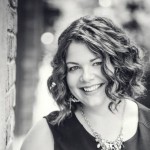 Heather is the somewhat sassy and sarcastic voice behind Life, Love and the Pursuit of Play. By day she is a freelance marketing consultant with Word of Mom Marketing, by night she runs her two fabulous blogs. Somewhere in between she is a wife to an amazing hubby and they both try to keep up with their two spirited girls!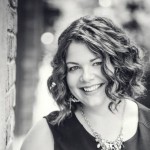 Latest posts by Heather van Mil (see all)