As most of you know, I love last minute get togethers which means I need to have a few lightning fast and easy-to-prepare appetizers that taste great. Something I always have on hand is canned tuna and salmon. A pantry staple usually set aside for pasta, sandwiches or quiche, the gourmet style canned Tuna and Salmon from Raincoast Trading are the star ingredients for these tasty appetizers.
Tuna Sliders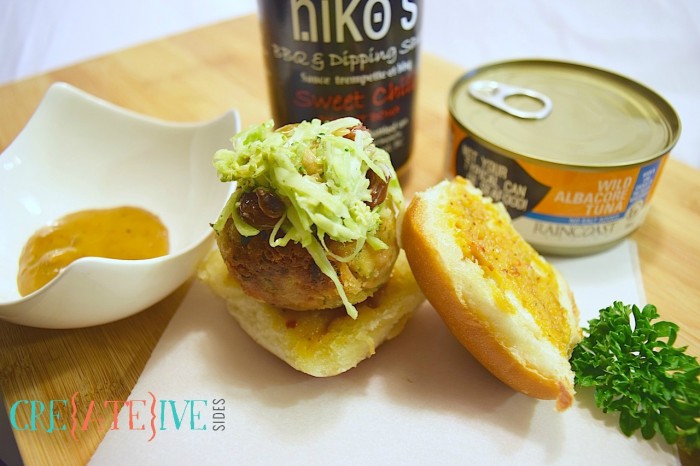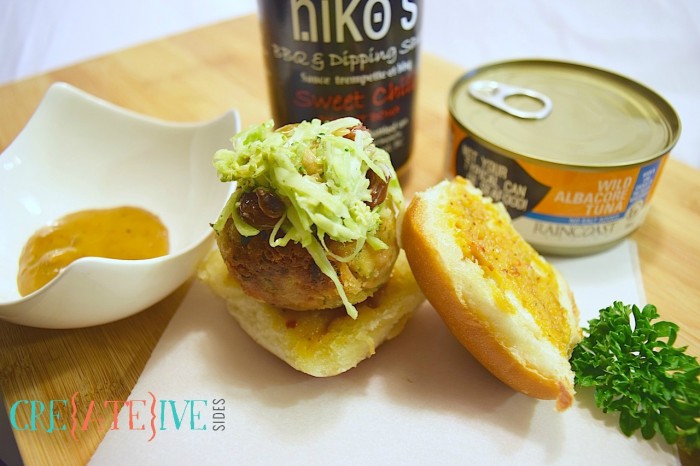 West Coast Tuna Sliders
2016-11-05 22:56:31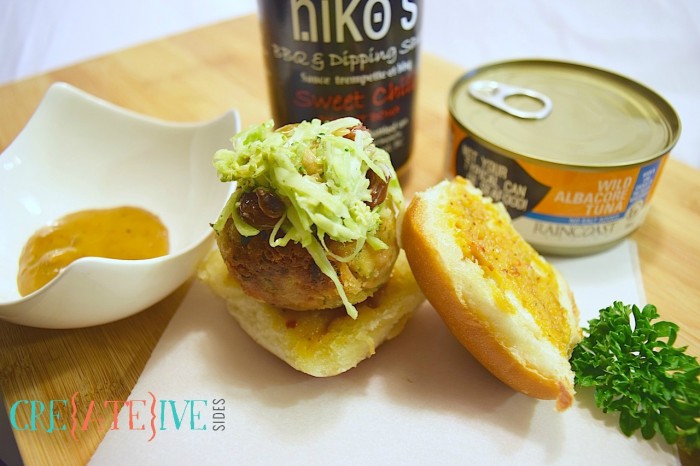 Serves 8
A quick to prepare tuna slider as an appetizer or made larger for a lunch or dinner. Note: I was worried the heat of the chili would be too spicy for my kids... until my three year old declared "That's delicious mama, can I please have another?" He said please - it's that tasty.
Ingredients
1 tbsp extra virgin olive oil
1 clove garlic, minced
1 red chili, minced
1 rib celery, finely diced
¼ tsp celery seeds
¼ tsp sea salt
¼ tsp pepper
1 egg, beaten
3 green onions, thinly sliced
¼ cup fresh parsley, minced
1 tbsp heavy cream
1 tbsp Dijon mustard
2 cans Raincoast Wild Solid White Albacore Tuna
⅓ cup dry breadcrumbs
2 tbsp all-purpose flour
Canola oil
8 buns/dinner rolls
Niko's Sweet Chili Dipping Sauce (found at St. Jean's Cannery and Smokehouse)
Broccoli Kale Coleslaw
Instructions
Heat olive oil in a pan over medium heat and sauté the olive oil, garlic, red chili, celery, celery seeds and salt and pepper. Remove from heat and set aside.
In another bowl, mix together egg, green onions, parsley, cream, dijon mustard, two cans of tuna, and breadcrumbs. Add in the chili, garlic, celery mixture and combine well.
Shape mixture into small patties and dredge in flour.
Place the patties in the freezer for 10-12 minutes.
Heat the canola oil in a large frying pan. Fry the patties for 5-7 minutes, until crispy and heated through.
Toast the buns and brush with Niko's Sweet Chili BBQ & Dipping Sauce
Top the buns with the tuna patty and coleslaw and serve with a side of dipping sauce.
Notes
You may also substitute Raincoast Trading Wild Solid White Albacore Tuna - No Salt for a lower sodium option.
Creative Sides http://creativesides.ca/
As a proud islander growing up in Nanaimo, BC, it's just known (like the sky is blue) that if you had a great day fishing on the Salish Sea or in the Pacific Ocean off the west coast of Vancouver Island, you take your prize to be canned and or smoked at St. Jean's Cannery and Smokehouse. St. Jean's Cannery and Smokehouse is a family business located in Nanaimo, B.C. that has been providing high-quality smoking, hand packing, and canning on the West Coast for 50 years.
St. Jean's has been an important part of my family's table for many years. They still process all the fish my dad catches and each time we travel to see my husband's family in France, we stock up on cans of salmon and frozen filets and bring them as gifts. Canned Salmon as gifts, you say? Not Nanaimo Bars? Yes, it is a huge hit every year. Next year we'll be bringing the dips and marinades.
After finding out St. Jean's Cannery acquired Raincoast Trading in 2013 I was happy that the standards of sustainable catching (hook and line caught – no nets, yay dolphins!) and processing (these guys know their stuff) will continue to be top notch. All of their fish is sustainably sourced in the Pacific Northwest off the coast of BC. All wild – not farmed.
Raincoast Trading Tuna and Salmon is only cooked once during the canning process and there are no preservatives. It is not packed in water – just the fish and all of its natural oils and nutrients. This means the tuna provides as much as 8 times the Omega 3 Fatty Acids compared to other commercial brands. As for quality, open a can of salmon or tuna from a competitor brand and a can from Raincoast Trading and do a side by side comparison to see the difference – it's striking.
Raincoast Trading products are available at most major grocery retailers in Canada as well as online at Amazon.ca
Salmon Cucumber Rolls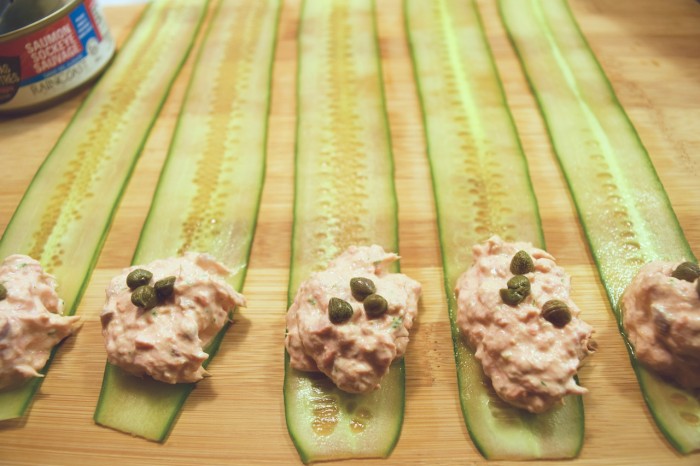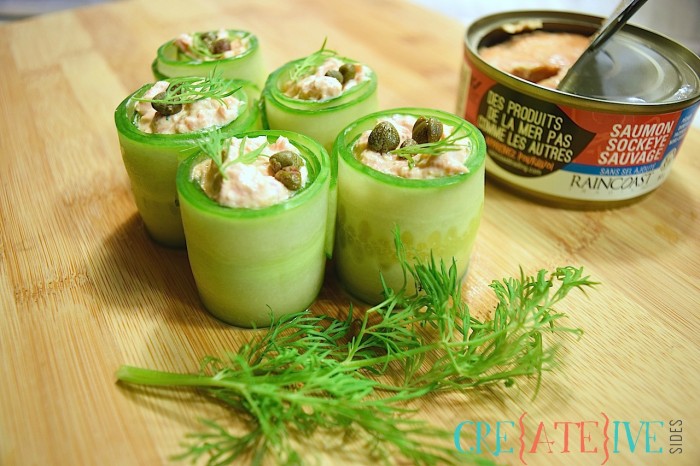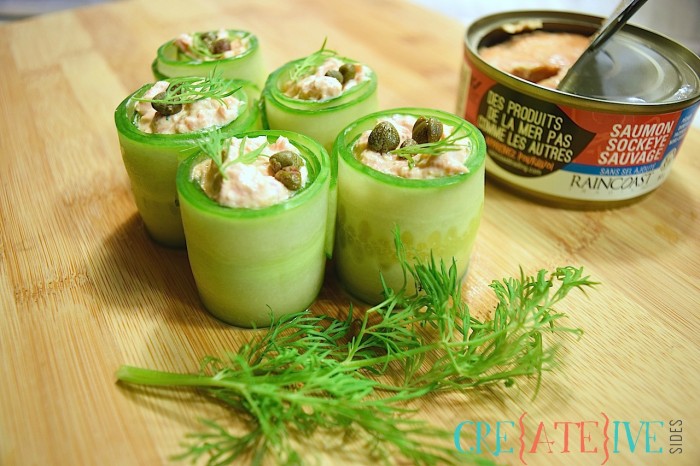 Salmon Cucumber Rolls
2016-11-07 03:58:31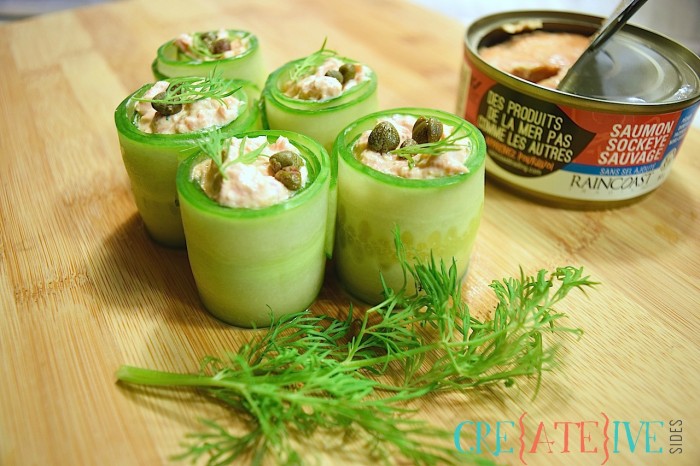 Serves 20
These Salmon Cucumber Rolls are lightning fast to prepare and elegant for a crowd. Delicious too!
Ingredients
1 can Raincoast Trading Wild Sockeye Salmon - No Salt
1/2 cup cream cheese
1/4 cup firm goat cheese
1 tbsp lemon juice
1 tbsp fresh dill, minced
1/2 tsp sea salt
1/2 tsp fresh ground pepper
1 english cucumber, very thinly sliced lengthwise using a mandolin
2 tbsp capers
Sprigs of fresh dill for garnish
Instructions
In a mixing bowl, combine salmon, cream cheese, goat cheese, lemon juice, dill, salt and pepper. Mix until well combined.
Place 1 tbsp of mixture at the end of each cucumber slice and add a few capers on top. Roll up the cucumber tightly using a toothpick to secure if needed.
Garnish with remaining fresh dill
Creative Sides http://creativesides.ca/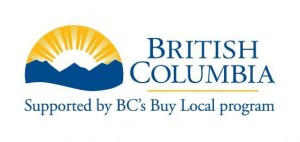 This project is supported by the BC Government's Buy Local Program; delivered by the Investment Agriculture Foundation of BC with funding from the BC Ministry of Agriculture. #BCBuyLocal
Disclaimer: Although this post has been generously sponsored and compensated by Raincoast Trading, the opinions and language are my own. If I would not serve it to my family, I would never suggest you serve it to yours.










The following two tabs change content below.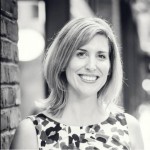 Andrea is the wife of one and mama of two who brings a certain je ne sais quoi to all she does. An avid crafter, baker and everything-maker she enjoys adding a little french twist to each of her creations. She firmly believes that coffee, wine and flying trapeze are the source of her joie de vivre.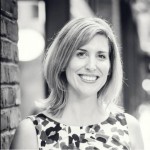 Latest posts by Andrea Moalic (see all)